The use of dogs as draft animals has a long history. Newfoundlands hauled fishing nets in to shore for their owners.   Swiss Mountain Dogs and Rottweilers hauled carts containing farm produce to market for their owners, along with numerous other large breeds, among them Leonbergers.  Although using dogs as draft animals is no longer extensively practiced, people are discovering the joys of involving the family dog in this sport.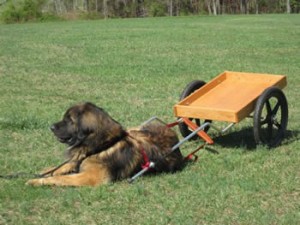 Teaching your Leonberger to pull a cart, a wagon, a sled, is not a hard activity at all to learn. The things you need to get started are a good quality Pulling Harness, and your time.
There are different styles of harnesses available and whichever one you choose, be sure it is designed for pulling. Nothing will spoil your fun and ruin a dog faster than an ill fitting harness.
Fitting the dog for and learning to use the equipment should be done under the supervision of an experienced draft instructor to avoid injury to the dog. While training it is important to make sure that all lessons are slow and POSITIVE.  Remember, this is supposed to be fun!  So go slow.
Leonbergers and other giant breed dogs under 18 months of age should not pull any weight at all since they aren't fully developed yet.

Once you have a harness, you can look at getting your cart or wagon. What you need depends upon what you want to do.  If you want to haul firewood around, a wagon is probably a better choice than a cart.  If you want to carry kids in parades, then a cart with a seat is probably a better starting point.  Most people seem to end up with a few different vehicles to hook their dogs to, since each vehicle has a unique purpose.
Harness – This is what the dog wears to pull.
Shafts – These are rigid poles positioned parallel either side of the dog. These are the steering and the brakes they attach to the dog's harness.
Whipple Tree (also known as a Swingle Tree) – This is a pivoting bar that is attached to the cart or wagon.   It is slightly wider than the dog and has attachment points for the traces on each side.
Traces – These are the straps that connect to the Whipple Tree t the harness.  The dog actually pulls with the traces.
Terms for Vehicles –
Cart – this is a two-wheeled vehicle.  These may be used to haul freight, while some styles are designed to carry passengers, like a sulky.
Wagon – a four wheeled vehicle.  These may carry freight or passengers.
Travois – this has no-wheels and is dragged by the dog.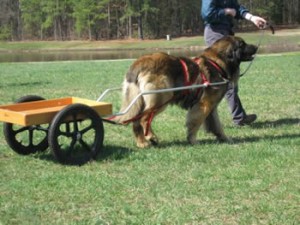 Terms for Harness Types –
Parade Harness – this is usually a leather harness that distributes pull to the right point on the dog. The straps are adjustable and are buckled together.
Siwash Harness – this looks more like a sled dog harness.
Draft Harness – this resembles the draft rigs normally seen on horses.  A large padded collar provides the main pull
Carting Commands:
"Hike"/"Giddy Up"/"Walk On"/"Start"/"Forward" – these are all commands for start up and going straight.
"Back" – this is the command used to back up
"Whoa"/"Stop"/ "Halt" – these are commands for stop.
"Gee"/ "Right" – this is the command for turn right
"Haw"/"Left" – this is the command for turn left
There are breed clubs that offer seminars and classes.  Your Leo can work towards a Draft Dog title (DD) and then a Draft Dog Excellence (DDX).   The rules can be found on the CKC web site.