Updated November 14,  2017
The following is a list of planned breedings, current matings and available litters in Canada from LCC member breeders.
The Breeders on this list have agreed to have health testing for all breeding Leonbergers. These tests normally include OFA hips and elbows, or foreign equivalent, OFA eye certification registry (CAER) certificate after of 16 months or age, OFA thyroid at age of 16 months or older, OFA heart and LPN1, LPN2 testing or "clear by parentage" status.  Please visit the OFA website to confirm health test results.  Please note that when purchasing a Leonberger puppy, the contract is between you and the Breeder. The Leonberger Club of Canada does not warrant, explicit or implied, the quality of the puppies in the matings and litters listed or the health of the puppies available via this webpage.
Contact the breeders listed below for more information on the availability of puppies.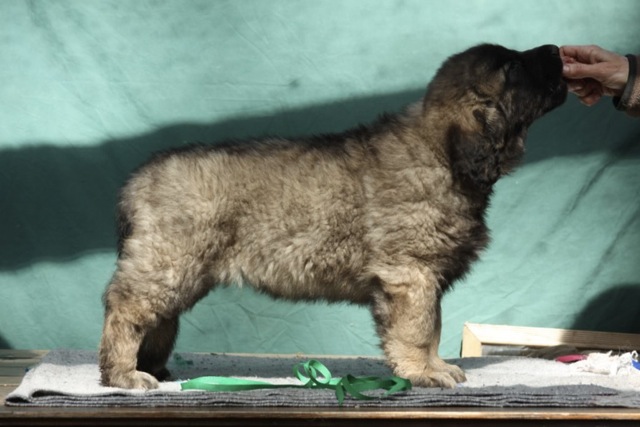 A quality Leonberger puppy at 8 weeks old should have strong bones, good substance, a healthy shiny coat and bright shining eyes and should have a sweet and friendly character.   A typical healthy Leonberger puppy weighs around 20 pounds at 8 weeks and should be well socialized.
Contact an LCC member breeder for information on a Leonberger puppy of good quality and health.
—
Recent Litters in Canada
Born October 31, 2017, 8 Males/3 Females – puppies available from this litter
Sire: GCH Altair vom Welland  (Schubie) –  OFA excellent hips, OFA elbows normal, OFA eyes, thyroid normal and cardiac normal, LPN1 & LPN2, LEMP N/N tested clear
Dam: CH Brixi Angels Bemetta (Bemetta) – OFA good hips, OFA elbows normal, OFA eyes normal and thyroid unknown, LPN1 and LPN2 clear by parentage, LEMP N/N tested clear
Kennel: Disguise
Breeder: Tanya Mccarthy
Location: Wellandport, Ontario
Phone: 905-920-3987
Email: longears@yahoo.ca
Website:  www.disguisedachshundleonberger.com
—
—
Recent Breedings in Canada
—
Planned litters for the Spring 2018
Sire: Legend De La Conte De La Battrie  (Viking) –  OFA hips excellent, OFA elbows normal, OFA eyes normal and thyroid normal, LPN1 clear by parentage
Dam: Wanderweg's Keepsake (Tia) OFA hips good, OFA elbows normal, OFA eyes, gonioscopy normal and thyroid normal, LPN1, LPN2 clear by parentage and LEMP N/N tested clear
Kennel: Wanderweg
Breeder: Fran Cozens
Location: Halifax, Nova Scotia
Phone: 902-576-5579
Email: wanderwegleos@eastlink.ca
Website: www.wanderweg.ca
Blog: http://wanderwegleonbergers.blogspot.ca
—
Visit Orthopedic Foundation for Animals (OFA) for health-related information.
All LCC breeder members must be an active LCC member for one year prior to having a listing.