President: June Ward

I have loved animals all my life. I have always been active in, out door activities, so owning dogs that will enable me to do things out doors with them, is a double pleasure. One of my passions is teaching people to do things with their dogs, like carting and water rescue.
I live in Hillsburgh, Ontario with one Leo, Miss Tango, and 4 berners. I hope to add to my Leo count soon. I have been breeding Leo's since 2006, and have been breeding Bernese since 1995. My Kennel name is KUMNC. I've been a member of the CKC (Canadian Kennel Club) since 1993.
I look forward to meeting many more Leonberger lovers while serving as the president of the National club. I am looking forward to hearing your suggestions as to what would make this club better for you.
—————————————————————————————————————————————————
Vice President: Fran Cozens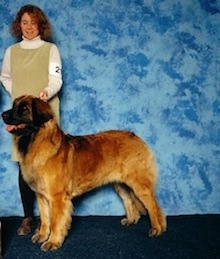 I have always loved dogs and dogs have been a huge part of our lives for many many many years. My husband and I have been actively involved with the Leonberger breed since 1999 and have loved every minute of sharing our home with these great dogs. Our kennel is Wanderweg and we are located in Nova Scotia.We have a great crew of dogs here and they and the kids keep us busy. We love to hang out with the dogs and the children and just enjoy being outside on a beautiful sunny day – okay or a foggy day too! I am actively working for the LCC and hope that the club will thrive over the next years and that many people will enjoy our efforts and our dogs.
—————————————————————————————————————————————————
Treasurer: Sonya Birch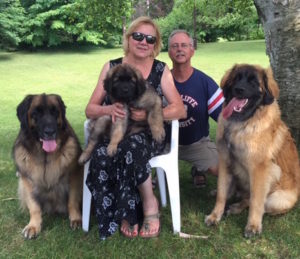 Hi I'm Sonya Birch and live in the Toronto area.  I have always been a dog lover, actually an animal lover all my life.  I am married to my wonderful husband Kim and have 2 children plus their significant others, 2 grandsons and we share our home with Myles our Leonberger, 3 bulldogs, 4 cats, birds, fish and reptiles.  They sure keep us busy.  Myles has earned his championship and rally advanced titles and we are currently working on our obedience and draft dog titles.   Also Myles is a certified therapy dog with St. John Ambulance where he sure puts a smile on a lot of the resident's faces during our regular visits.  I am a member of the Canadian Kennel Club, Caledon Kennel Association, Leonberger Club of Canada, Leonberger Club of Ontario, Bulldog Club of Central Ontario and St. John Ambulance.
—————————————————————————————————————————————————
Secretary:  Kim Birch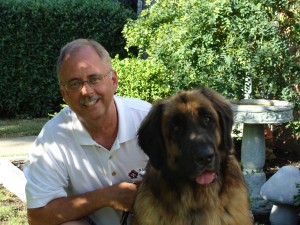 Hi, my name is Kim Birch and, along with my lovely wife Sonya, we are very involved in the world of dogs. In addition to the Leonberger Club of Canada, we belong to several other clubs including the Caledon Kennel Association, the Leonberger Club of Ontario and the Bulldog Club of Central Canada. Our Leonberger, Myles, is a wonderful ambassador for the breed, great with kids, other dogs and cats and very social. Myles responds extremely well to direction and is always eager to please.  Having a large dog like Myles around the house is a pleasure and I expect that we will always have at least one Leo as a member of our family.
—————————————————————————————————————————————————
Western Director:  Val Beard
—————————————————————————————————————————————————
Praires Director:  Vacant
—————————————————————————————————————————————————
Ontario Director:  Janet Hanson-Klebnikoff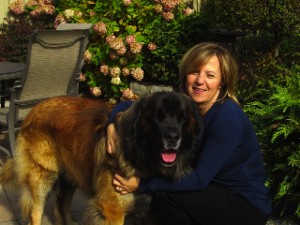 My name is Janet Hanson-Klebnikoff and I live with my wonderful husband of 26 years and my twenty two year old son.  We are all loved by two wonderful dogs, our 13 year old Golden Retriever, Chester and our 4 ½ year old Leonberger, Darcy.  Darcy is our first Leo.  I have been very fortunate to have become a member of the Leonberger Club of Canada since the first few months of welcoming Darcy into our home back in 2007.
I am relatively new to the dog club world in comparison to many other members, but I have gotten involved with numerous clubs and activities since Darcy's arrival and have learned a great deal from many new friends and acquaintances along the way.  I belong to the Leonberger Club of America, the Ontario County Kennel Club, the Ontario Working Dogs group, the Bernese Mountain Dog Club of Ontario and am a member of the CKC.   As a volunteer with the Ontario Working Dogs, I have been able to work with Darcy as a Therapy dog and he was presented with a Leonberger Club of America Therapy Dog Award at last spring's National Specialty in Rhode Island.  Darcy has earned his CKC Conformation Championship with only me as his amateur handler.  We did have loads of fun getting it.
As Ontario Director of the LCC I hope to work with all the executives and members to make this club something wonderful!——————————————————————————————————————————————
Quebec Director:  Nathalie Dame
" Bonjour à tous!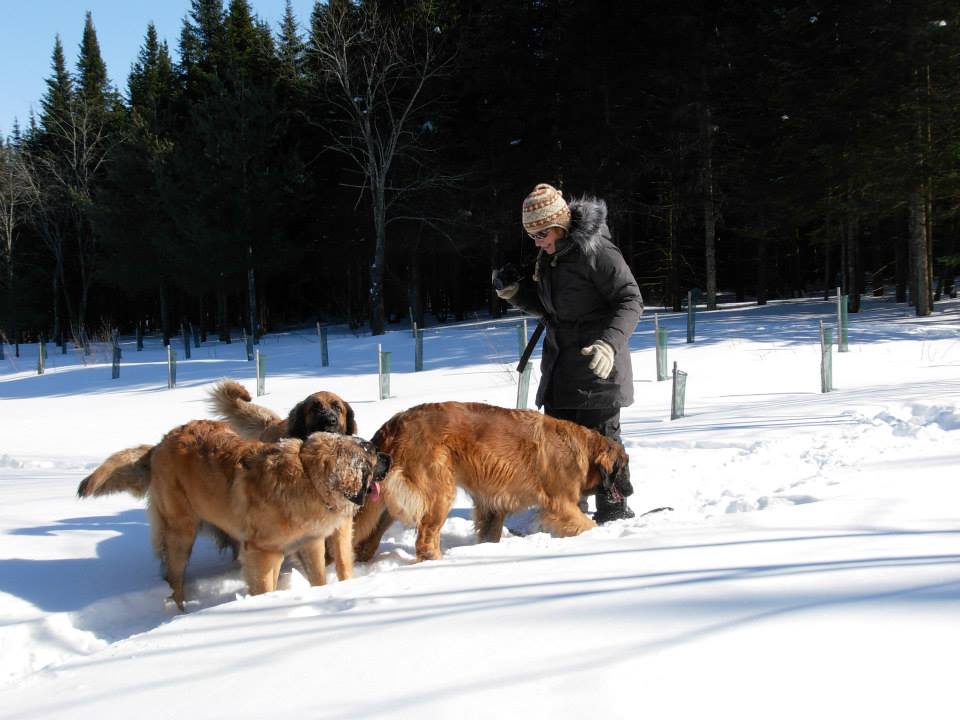 Mon nom est Nathalie et j'ai des Léonbergs dans ma vie depuis 16 ans maintenant et j'en fais l'élevage depuis plus de 12 ans. J'ai à cœur le bien-être, la santé, la longévité et l'amélioration de la race. Je suis biochimiste de formation et je suis de retour à l'université depuis peu pour faire ma maîtrise. Je suis membre de ce Club car je crois à la diffusion de l'information afin que tous les futurs propriétaires puissent faire un choix éclairé quand vient le temps d'adopter un Léonberg. N'hésitez pas à communiquer avec moi : je suis heureuse d'être votre contact francophone au sein du Club du Léonberg du Canada.
Au plaisir!
Nathalie Dame"
——————————————————————————————————————————————
Atlantic Director: Michael Crawford
—————————————————————————————————————————————————