Love you forever memorials of our beloved Leonbergers. They live forever in our hearts and we miss them each and every day.
If you are an LCC member and would like to post a Leo memorial to this special page please email us a short story and one photo at info@leonbergerclubofcanada.com.
————————————————————————————–
Rekileijonan Baldur (Monty) – July 29, 2006 – April 05, 2010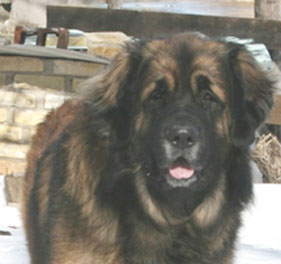 When Monty's breeder left to go back to Finland, her last word to him were "you grow up to be a good dog".  He followed her instructions precisely, as a better dog never lived.  He was everything we could have ever asked for in a dog.  Beautiful, loving, obedient, funny …. the list just goes on and on.  He was absolutely perfect, and I didn`t mind telling anyone who would listen.
He had so much to offer the breed, and it is a tragedy that he did not have more time to make his mark.  We are forever changed for having loved him, and we will never be the same for having lost him.
Jan
————————————————————————————–
Dios Gyori-Sziklas-Hedy CGN (Grace) – Dec.15, 2002 – Dec.10, 2009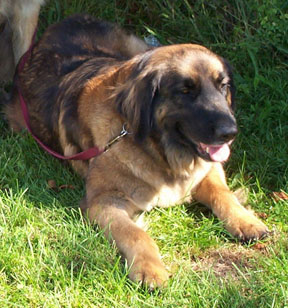 We lost our sweet gentle Grace, 5 days before her 7th birthday…..way too soon. There was not a person that met Grace that did not like her, and comment on her gentle soul. She had an interesting life, born in hungray, arrived in the US at the tender age of 8 weeks, and then moved to Canada when she was almost 3 yrs old. She was well travelled and was registered in Hungary, the USA three times,  the UKC (United Kennel club), the LCA (Leonberger Club of America), the AKC (American Kennel Club) and of course the CKC (Canadian Kennel Club). Her first litter with me on October 15, 2006, after moving in with me on Feburary 26, 2006. Her last litter was September 1, 2008. She was spayed in October 10, 2009, and was to have a long happy retirement…but it was not meant to be.
The Picture attached was taken when she was pregnant with her first litter while with me. She is gone, but not forgotten, she lives on in her puppies, making other families happy.
No matter where she was or what she did, nothing ever changed her from the loving gentle lady she was.
June
————————————————————————————–
Shandro's Carefree Kenzie (Mackenzie) – Oct. 16, 2000 – July 29, 2010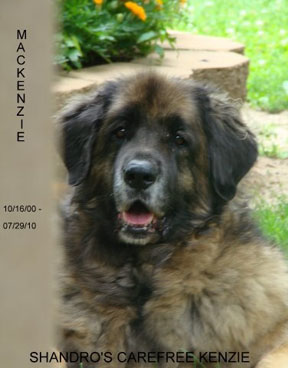 Ode to Mackenzie
Mackenzie, Mackenzie, Mackenzie!
You started our Leonberger frenzy.
The little girl that stole our heart.
Too soon from us you did depart.
I can picture the joy in Linda's face,
When you first ran about our place.
I recall your first pizza slice.
You begged and begged, your only vice.
Remember when you held that baby robin,
In your mouth your head a bobbin.
We thought for sure that it would be clobbered.
Instead you gently let it go, completely slobbered.
And then there was the time you sounded the alarm.
Preventing Tanner from suffering harm.
The would be thieves were unable to rob.
Because you and Brody were on the job.
We miss you girl more than we can say.
I regret that we didn't have more time to sit and stay.
Jeff
————————————————————————————–